As you may have guessed by this point, being a part-time writer and also having a full-time office job means that I spend most of my days sitting at a desk. And even though not all of my time is spent at my own desk, I thought that it may be time to invest in a proper one. Especially if I want to turn this project into a full-time deal. So I decided to browse around a bit and find a modern desk that should also fulfill a few other needs.
To be more exact, my dream desk should be large enough to allow me plenty of room to get my job done. But it shouldn't take up too much space in the room, either. It should have a proper height so that I can have a good position and maintain a good posture throughout my work time. And, preferably it should also have a decent amount of storage for the little things that I need at hand during work time.
But that is just the practical side. And if we start talking about the design aspect of my dream modern desk we could be here a very long time. So I will save you the trouble and the generalization of this aspect. I will just talk a bit about each desk that I have choosen individually in order for you to see a bit of the reasoning behind my choices. And maybe learn some of the things I look for when shopping for a desk. You may even find that we match in some aspects. But, if we dont, I would love to hear what you think regarding any of the following products in terms of both design or practicality.
Arbour Writing Desk
This is a simple and gorgeous solution for when a small surface will suffice or wanted/required. It will also add a dash of color to your home, making it a more warm and cozy environment. You can even use it as a bold move, in order to add color to a neutral or non-color space.

Arbour Writing Desk
Cami White Modern Writing Desk
This is a simple, white and conventional piece. The design fits in with any design choice, modern or elegant. And the drawers are actually the key to why I choose this desk. They are big enough for the storage of your work supplies. But small enough to blend into the design and not stand out as a sore eye.
Retro Turquoise and Grey Modern Desk
For those of you more outgoing, who enjoy more than a splash of color in your house, this is the perfect desk for you. The lovely turquoise color in combination with the gray legs are a beautiful combination in my opinion. More so, I think the colors match perfectly the retro style and design of the desk. The two small drawers on the side make it an even better choice for a work space and blend in very well.
Renate Wood / Metal Office Desk
The combination of wood and metal makes this desk a perfect selection for a variety of designs. You can make it fit in an industrial space, a modern one and even a classic look, if you combine it with the right accessories. The open space shelves on either side make this desk a more integral part of you room. Mainly because you can use them for storing more than your office supplies. You can also use them for purely decorative purposes and you will still end up with a wonderful space.
LISABO
This next desk comes from IKEA and it would be my first choice to buy out of this entire list. The only downside is that it is a little pricey, so it can't just be bought on the spur of the moment. But let me tell you why I like it so much. First of all I love its simplicity. Secondly, I have to admit that I always prefer wooden desks to any other type, and this one fits right in. And last, but not least, I adore the fact that it has a small drawer in the middle. Even though you may not be able to store everything that you wanted in there, it is enough for the bare essentials. And that's all it's supposed to be.
ARKELSTORP
The next desk also comes from IKEA. The black painted foundation combined with a pine wood top and the straight lines of its design make it a perfect choice for a modern surrounding. And even though it's not painted in a bright color, it can still stand out as a striking and beautiful piece in any room. Of course, if you match it well with the right accessories.
VITTSJÖ
This one is a little different but as gorgeous as the rest of them. Again from IKEA, this is known as a laptop table but can be used as a desk for a small space or simply if you don't need that much room on your desk. It can be a light and refreshing touch to you home. The small shelf on the right can be used to store your laptop to keep you distraction free or just to store things that you need to keep close when you work.
Merritt Modern Desk in Agate Green
A simple but striking piece of furniture, I found the Merritt Desk in the color of Agate Green on the Wayfair website. And I believe that it will add a touch of warmth to your home. Yes, I support my previous statement even though it comes in a cold color. This desk fits perfectly in my dream summer home by the sea. A place where you can find peace and quiet to do anything you like and get inspired to.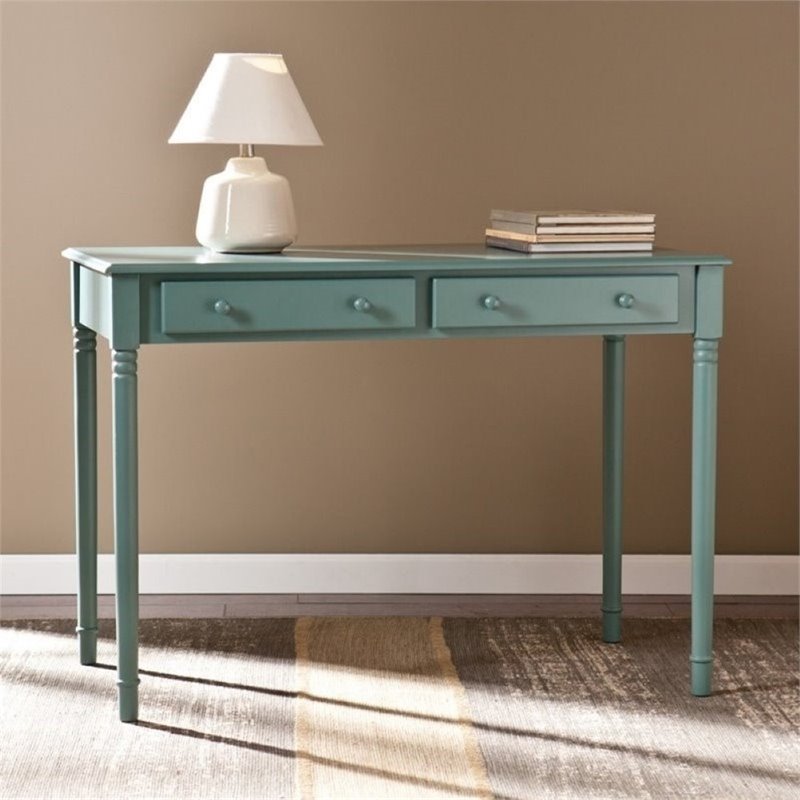 Pemberly Row 2 Drawer Writing Desk in Agate Green
Jenna Writing Desk
It may be the last but it is definitively not least one on my list. A small and simple white desk may be just what you need sometimes. It can fit any space, style, design, and home. You have enough top space to do your work and two large enough shelves to store all your necessary items. When not used, it can simply be a wonderful way to display a few home accessories and it will not be a big bother or inconvenience to anyone.

Jenna Writing Desk
For now I leave you with these picks and I hope you enjoy them as much as I have. Feel free to let me know what you think. I would love to hear if you have other preferences and if you'd like maybe another article with more specific types of desks. Thank you for taking the time to read my article and have a wonderful day!