Bottles are one of the easiest objects to use in your home decor. Why? Because of so many reasons. I would have to write several articles to fill you on all of them. But I will spare you the dread of going to my writing and will just add a few short arguments, which I hope you will find convincing. I am going to tell you why I personally like and use bottles as decorations. And also why you should use them as well. If by the end you are at least 10% more convinces, then I will consider this article a success. So let's begin.
Bottles, your home decor's best friend…
First of all, they are everywhere. It's not like you have to go to a special store in order to find bottles. They are everywhere. And they are also of many shapes, sizes, forms, and even colors. So you can go for the simple and clear ones, for the colored glass type, short, long, you name it and you will find it. This also allows you to match them very easily. If you want a set, simply buy several of the same style, or mix and match however you like. This can make it very easily for you and allow you to control their number, depending on your needs and preferences.
You can use them in many different ways. They can be used as a vase to store flowers. As you can see below, having one flower in each of your bottle can make for a beautiful, simple, and modest arrangement. You can fill them up with all kinds of season specific items to make a different seasonal arrangement 4 times a year. Maybe dried leaves in the autumn, pine cones or pine branches in the winter, fresh flowers in spring or fresh fruit in summer. There are endless possibilities. Or simply put a lovely string of lights inside your bottles to add a warm holiday mood to your home any time of the year.
And if you ever get tired of them as a decor object, you can always return them to your kitchen and use them for their original purpose. As simple as that. Down below I have chosen a few sets of bottles to help you. Help you better visualize my ideas. And maybe give you some inspiration on what you can do with your bottles. Let me know how would you decorate your home with the help of bottles in the comment section.
 Wire Basket With 5 Assorted Size Glass Bottles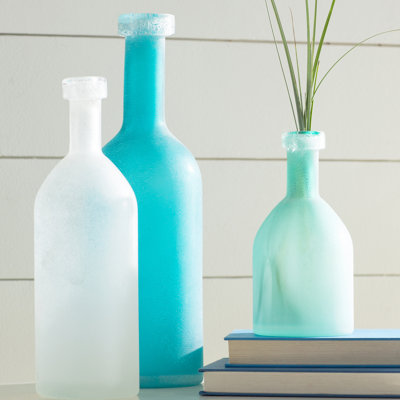 3 Piece Russell Handblown Glass Decorative Bottle Set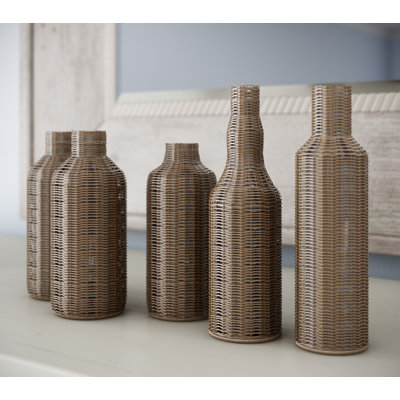 5 Piece Handcrafted Woven Bottle Set Color: Grey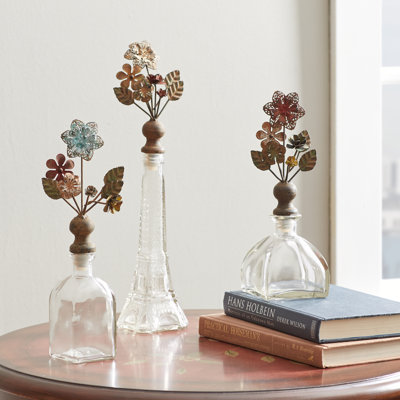 Politiers 3 Piece Decorative Bottle Set

Bremen 3-Piece Bottle Set

Chemistry 3-Piece Bottle Set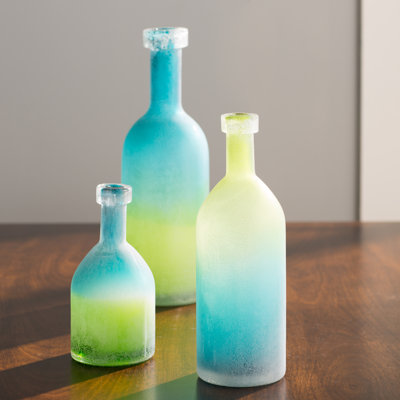 3 Piece Decorative Bottle Set